Corporate auto insurance with Patriot Insurance Agencies helps you:
Protect your commercial vehicle
Safeguard your business's financial integrity
Avoid complicated and costly disputes
Corporate auto insurance is a sure preventive measure that you can't afford to operate without. Call Patriot Insurance Agencies today for an estimate and to talk to a corporate auto insurance representative. We'll put together the policy you need to ensure that you're always protected.
Trucker and Owner-Operated Coverage
As we just mentioned, commercial truck operators must carry very high insurance policies on their 18 wheelers and other commercial trucks. Commercial Vehicles like Semi Trucks can weigh more than twenty times the weight of a normal-sized passenger vehicle. As a result, the coverage for a commercial truck can be worth more than fifty times that of a standard automobile.
Limo, Pizza Delivery and Small Fleet Insurance
There are all kinds of commercial vehicles in and around the Charlotte NC area. We can find the best insurance coverage for all of them. It does not matter if it is a taxi, limousine, or pizza delivery service. Patriot Insurance Agencies will get the right policy in place so that all commercial vehicles roaming on the streets and highways are insured.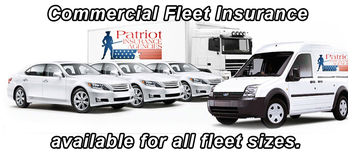 Patriot Insurance Agencies is the most unique insurance provider in Charlotte, NC. The reason why is because we are not an actual insurance provider. We shop around to find the best policies for our customers with the multiple providers. Owners of any commercial auto can have peace of mind when doing business with us. Patriot Insurance Agencies will search for the policy owners of commercial autos are looking for and need.
Call for a quote today at 704-596-4911 or fill out our contact form to have a representative contact you for a free quote.